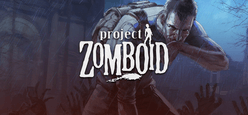 Project Zomboid Servers
If you're in for a zombie survival game then Project Zomboid is what you're looking for. In this survival horror game you try to survive in a world dominated by zombies. Loot and scavenge to survive for as long as possible, but be aware, even the slightest scratch can lead to your death!
Play together with friends to keep yourself sane, hydrated and warm in Knox county, while the zombies are crawling all over. Choose and customize your current character, and use their perks and traits to build up a base, until death eventually takes you.
With our Project Zomboid Server Hosting you're sure to keep the zombies in Knox county alive, and you can continue building your base with just how many characters you may want to waste.
Invite your friends on our 24/7 servers to get the real Project Zomboid experience, and use several mods and plug-ins to enhance your game. Not sure how? Contact our support at any time to help you with your server.
Once you rent a Project Zomboid Server via us our platform will automatically set up your server and you'll be able to play with up to 63 others within minutes.
Features
99.9% Uptime
Highly Scalable
Custom Plugins
Dozens of game modes
Control Panel
Custom Commands
Custom Maps
Network designed for low latency
And so much more!
Other services frequently ordered by players of Project Zomboid:
Factorio Server Rental
Ark Server Rental
Rust Server Rental
Starbound Server Rental
Terraria Server Rental
If you have any questions, make sure to check out the Project Zomboid knowledge base
Prices are visible in the right top corner.