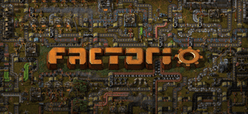 Factorio Servers
In the game Factorio you start out on an alien planet, looking to find your way back to your planet after a crash landing. To do this you and your friends need to build an enormous factory to build the spaceship that will bring you back. But the planet will not make it easy for you. Local monsters and harsh environment will impact your attempts to make the biggest factory possible.
Join with your friends to combine your strength and make your base in this top-down strategy game. Optimize your resource gathering and level up your machines to build the best rocket mankind has ever seen.
Build the biggest machines and conquer the planet with our hosting services. With your own Factorio server you can join with your friends to play and even make teams to see who is the fastest rocket builder.
Install various plug-ins and mods on our server to make it your own world and if you ever need any help with that, our support is always on stand-by.
And if you order your server today, you can start playing immediately. Check out the 'Order Now' page for our server prices to create your own Factorio adventure!.
Order your very own Factorio Server Now!
Features
99.9% Uptime
Highly Scalable
Custom Plugins
Dozens of game modes
Control Panel
Custom Commands
Custom Maps
And so much more!
Other services frequently ordered by players of Factorio:
Terraria Server Rental
Unturned Server Rental
Project Zomboid Server Rental
Ark Server Rental
Starbound Server Rental
If you have any questions, make sure to check out the Factorio knowledge base
Prices are visible in the right top corner.