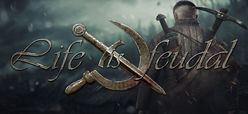 Life Is Feudal Server Hosting
Life Is Feudal is a huge open world RPG where the only limit is your imagination! The world is absolutely huge and the map can easily support up to 64 players at once with enough room for everyone to explore and build. With a combat system built for realistic and unforgiving PvP, battles are bound to be a blast. Use our Life Is Feudal hosting services to get your kingdom in motion today.
You will witness the rise and fall of empires before your very eyes. Huge forts and castles will be conquered and turned to nothing but a pile of burning rubble. Be prepared to team up with others and create a web of politics on your server, there is strength in numbers, and you won't last long alone.
Crafting and farming is unique and semi-realistic. Supplies are farmed and harvested just as they were back in the days of knights and kings. You'll need to have workers tend to your fields and warriors to protect them from invading enemy troops. Crafting is done through the same means, you will have to work to achieve better tools to increase production and better recipes. There is just enough realism to make the game authentic without taking too much of your time.
Rent a Life Is Feudal server today to jump into fierce and realistic PvP combat. Everything is completely physics based, with no targeting system. Your combat skills will have to be honed through hours of practice and duels. Do you have what it takes to become the most fierce fighter in the game?
When you buy a Life Is Fuedal server, you'll have access to all the tools you need to customize your world to your liking. The game has full support for terraforming and building, you'll be able to create anything you can imagine. Our one click mod support allows you to easily add any extra Steam Workshop upgrades within seconds of your purchase.
Your server will be delivered instantly after your payment.
Features
99.9% Uptime
Highly Scalable
Easy slot changes
Steam Workshop Mods
Server Specifications
Each of our servers comes with ATLEAST (but very often even better) the following specs:
64GB Ram
Multiple SSD Drives, ensuring your server is very fast and letting you store even your biggest maps.
A quad core CPU with atleast 3.6GHZ clock speed
In other words, our servers are amazingly fast, and we'll run your server 24-7 with no lag.
If you are looking to move from another host, we can help you do this free of charge. Simply contact support after your purchase and we'll take care of moving your files over to us.
If you have any questions, feel free to ask us via our 24-7 Live Chat.
If you require advice or assistance with placing an order or with your server, please contact our 24-7 live support by clicking the button in the right bottom corner of this webpage.
Prices are visible in the right top corner.