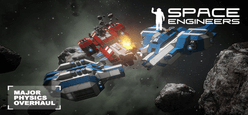 Space Engineers Server Hosting
Space Engineers is a large open world sandbox game that meets all the needs of any good survival game. You will be exploring in the vast area of space and on the unique and diverse planets that inhabit it. Some of the things you'll be able to do when you use our Space Engineers hosting services include building spaceships and stations, creating interplanetary outposts that can be used for a variety of purposes including diplomacy and war, and piloting your very own personally built spaceship with your crew.
The game's physics system is absolutely phenomenal, everything can be destoryed, damaged, and assembled or disassembled. Your environment can completely change in an instant and is directly effected by your actions using a realistic, volumetric-based physics engine. Volumentric based objects are composed in a way which allows for everything in the game behave exactly like a real object and are influenced by forces such as interia and velocity. Contrusction and exploration are heavily valued with these key features, however the game can even be played a basic survival shooter if that's what you're into. There's something for everyone here.
Keen Software House, the game's developers, created Space Engineers with the goal of being realistic. It avoids using technologies that are not possible within the near future of the real world, and is comparable roughly to the future developments of NASA. This creates the perfect amount of realism within your adventure, nothing is too unbelieve for the coming future of our modern society. Buy a Space Engineers server today and see the beautiful and highly dynamic universe.
When you rent a Space Engineers server from Gameserverkings, we'll provide your server nearly instantly. With up to 64 slots available for players and plenty of room for mods and customization, this game will result in hours of fun for any type of gamer. We aim to provide the best experience with Space Engineers server hosting, give us a try today!
Your server will be delivered instantly after your payment.
Features
24-7 Online
Configurable Automated Backups
Mod Support
Space Engineers Dedicated Server Hosting
Server Specifications
Each of our servers comes with ATLEAST (but very often even better) the following specs:
64GB Ram
Multiple SSD Drives, ensuring your server is very fast and letting you store even your biggest maps.
A quad core CPU with atleast 3.6GHZ clock speed
In other words, our servers are amazingly fast, and we'll run your server 24-7 with no lag.
If you are looking to move from another host, we can help you do this free of charge. Simply contact support after your purchase and we'll take care of moving your files over to us.
If you have any questions, make sure to check out our Space Engineers knowledge base or simply contact us.
If you require advice or assistance with placing an order or with your server, please contact our 24-7 live support by clicking the button in the right bottom corner of this webpage.
Prices are visible in the right top corner.