How To Update Your TF2 Server
Some of our users have contacted us asking how to update their TF2 server once it's purchased. It's as simple as pressing one button. If you need to know how to do this, go ahead and read over this guide. If you're interested in purchasing a server with us, go ahead and check out our competitively priced server options located on our Team Fortress 2 Pricing per Slot Server Renting Page.
If you're interested in more content similar to this, go ahead and forward yourself to our Team Fortress 2 Knowledge Base, SourceMod Guides and TF2 Articles are at the edge of your fingertips. Learn how to use your push your server to the limits for a truly unique player made experience. Thank you!
Management Panel
Although Team Fortress 2 is an older game, it still receives major content updates as well as simple patches. If you want to play the newest game modes and maps it's important to always keep your server up to date. Knowing this, we have made this process as easy as clicking one button. If you follow this guide you will be able to do steam updates on your server with no problem at all.
First, log into your GameServerKings Game Server Control Panel by logging in with the information which you've received in your verification email. Once logged in, click on "Game Services" on the left-hand side of the screen, in the navbar, under the drop-down labeled "Game & Voice Management." Once you're there your screen will look something like this: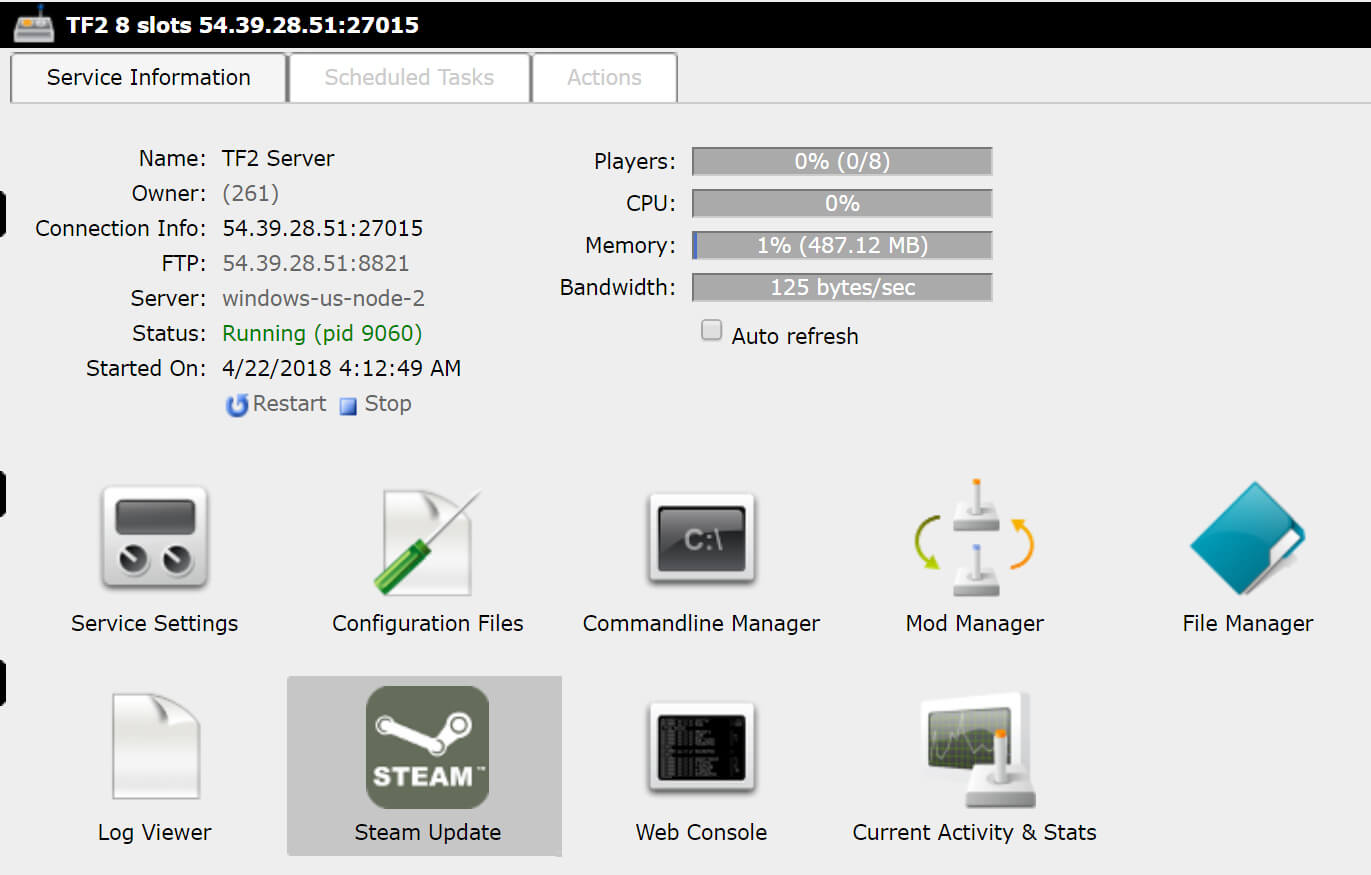 How To Apply A Steam Update
Go ahead and click on "Steam Update" it will come up with a window detailing progress. Be patient. Sometimes it takes a while to connect to steam, but once it does it will tell you, and again it will tell you when the server has been updated. Do not close this window until the Steam Update is complete.
If you've done everything correctly, your server-side steam client is now updated. Good job!