How To: Reset TShock Terraria Map Data
Thank you for viewing our article on resetting your map data with TShock Terraria. If this guide has helped you, go ahead and check out our Terraria Knowledge Base. Our Terraria KB is filled with information about Tshock, Plugins, and more. Handcrafted for our users, each guide is designed to teach you tips and tricks for becoming the best Terraria server on the internet.
If you're interested in giving us a try, we offer a 24/7 money back guarantee. This allows you to test out our services and then, for any reason, if you don't like your service you can cancel no questions asked. We love user suggestions and the experience of our users is our number one priority. Give us a try by looking at our competitively priced TShock Terraria Servers for Rent.
Useful Links
If you are experienced with using FTP Clients such as FileZilla, this may be a better option for you. Our system is great, but it would be much faster to set up FTP with your server to swap files on the fly, if you're experienced, that is. Below we've posted a link to our FileZilla guide, if you're new, you can learn to use FileZilla to interact with your server without stepping foot in our back end. Thank you!
Resetting Your Map
To reset your TShock server map data it's as easy as this, first log into your GameServerKing's Game Server Management Panel with your TCAdmin login information provided to you in your verification email. Then, go to "Game Services" and select your TShock Terraira server. From there, make your way to the File Manager.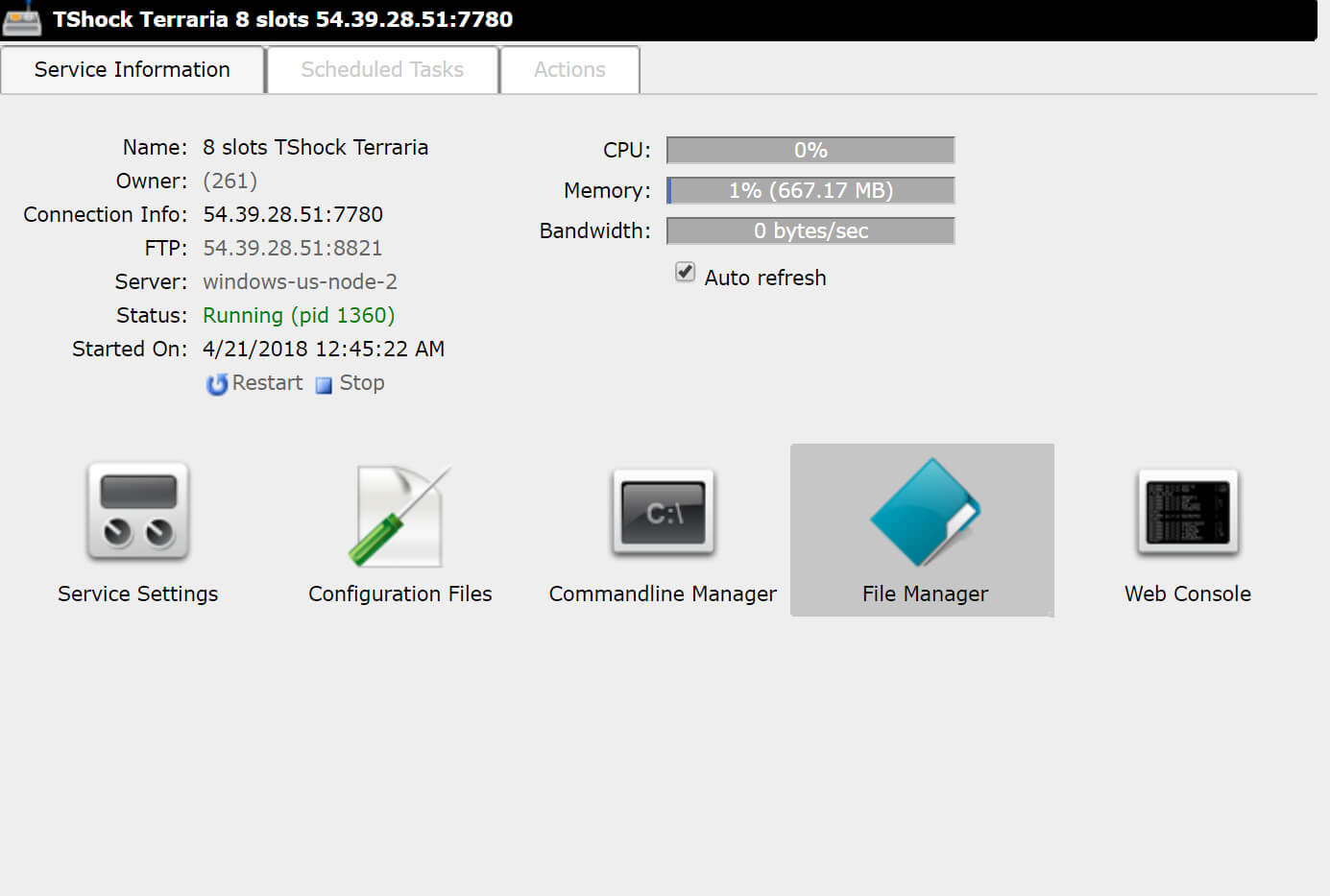 From there, go to saves, and if you currently have a "World.wld" and/or a "World.wld.bak" select both of them using the check marks to the left, and click "Create Zip" That will create a backup of both files. In my files, I only had "World.wld" as this was a freshly generated server. "World.wld.bak" is just a backup of "World.wld." Select "World.wld" and "World.wld.bak" and click "delete" to delete them. Go back to your Game Services panel, and restart your server to regenerate map data.