How to use RCON with Unturned
This guide, which is marketed towards all users of GameServerKings Unturned Servers provides very important information regarding Remote Console usage with Rocket Mod. Without this, we feel as though many server owners would not have adequate means to properly run their servers professionally. This is why we recommend using Putty in conjunction with Rocket Mod. In the future, we plan on building our own system which is both more user-friendly and more accessible to all users. If you're interested in this system, check out our pricing located at our Unturned Hosting page, or bookmark this guide to stay updated.
If this guide was able to help you in any way, please check out our other guides located on our Unturned Knowledge Base. We regularly update our guides to keep the information held within accurate and up to date. If you're a fan of unturned, it's best to bookmark that page as well. Thank you!
You can also use the web console in your manager.gameserverkings.com panel for an RCON client.
You should read these guides first:
Installing Putty
First, you need to download a third party utility called Putty. You'll then need to find the "alternative binaries" section then download either the 32 bit or 64 bit version of putty depending on your operating system. If you do not know, simply use 32 bit.

Configuring Putty
Next, after opening the exe file, you'll need to modify the following information, the hostname (your server ip), the port (your rcon port) and make sure the connection type is 'telnet', then hit open once your information is filled in.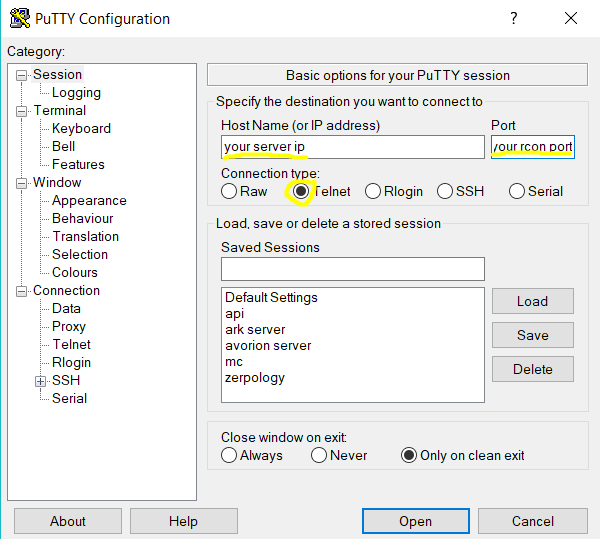 Additionally, after connecting you'll see some text along the lines of this: "RocketRcon v2.4.8.0" on the console window.
Next, you will log in using the following command: "login <yourrconpassword>"
The server gives no indication on a successful rcon login, however, if it fails it will simply tell you that you are not logged in.
You can now simply execute commands, try "help" as an example.