How To Make a TShock Superadmin Account
Thank you for reading our guide, our content development team have been working very hard to provide this content to our users. If you liked this guide, check out our other guides written for everyone on our TShock Terraria Knowledge Base. We offer this service for our beloved users. Most of our guides are inspired by inquiries by our users. If you have a suggestion for our services please contact us via support ticket or our 24/7 live support system. Thank you!
If you're interested in our services, we offer a 24/7 money back guarantee so you can try before you buy. If you don't like our services for any reason, we will refund you completely within the first 24 hours. Give us a try by checking out our Terraria Hosting Page, Low Price, High Quality Terraria Servers for Rent.
---
So you've created your server and you want to experiment with TShock. A very important step is to set up a superadmin account, you'll need a superadmin account to do certain things with certain plugins and to use any of the commands listed on our Admin Commands list. If you follow this guide, you'll have a superadmin account in no time flat.
Useful Links
Authentication
TShock Terraria requires you have access to our web console to grant superadmin rights your users. First, boot up a copy of Terraria, as well as navigating to your GameServerKing's Game Server management panel. From there click "Game Services." If you have multiple servers with us, select the TShock Terraria server you wish to gain superadmin rights on. Once you've selected your service click on "Web Console."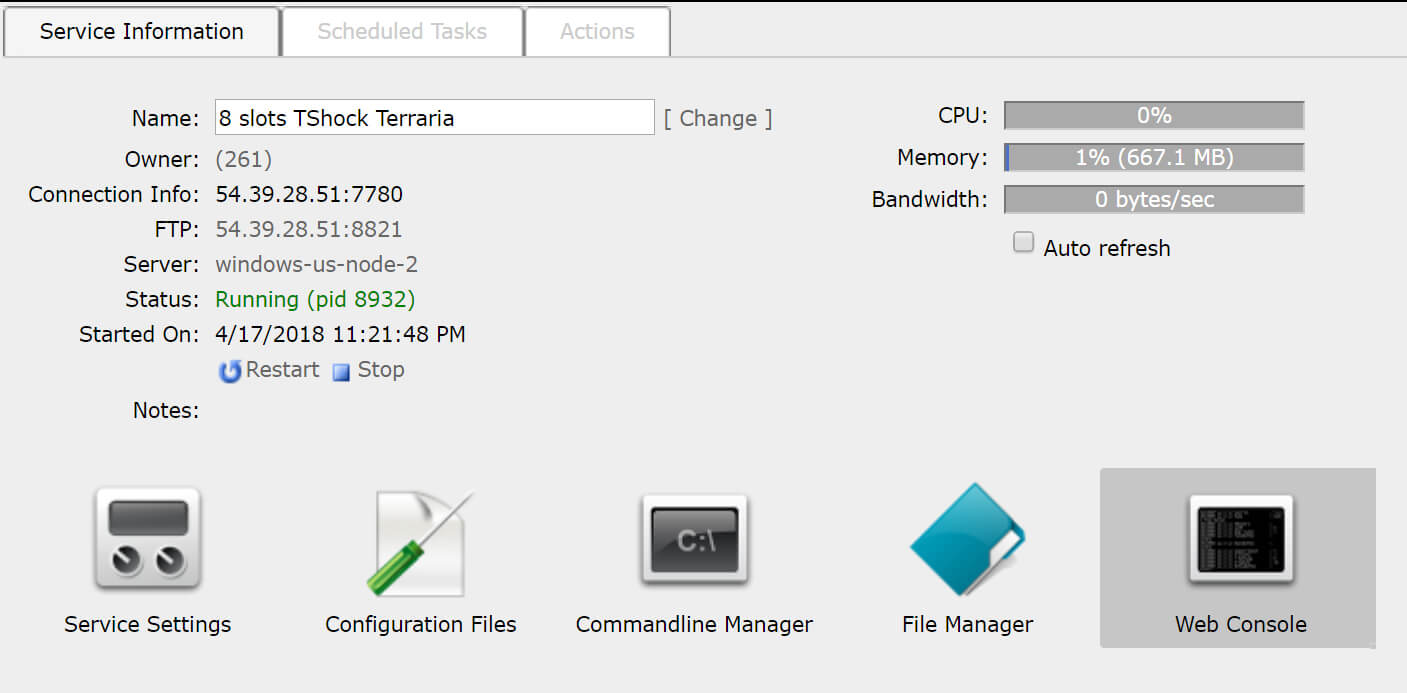 Once within the Web Console, your server will say:

Start up your Terraria client and log in to your server. If you don't know how to log into your server, you can view our knowledge base guide: How to join online multiplayer games by IP. Once online, press ENTER or RETURN to open your ingame console. Type "/auth" followed by your 7 digit authentication code. Mine was: /auth 7279410.

Next, it will prompt you to create a password using your superadmin character. Follow the instructions prompted to you. My character's name is "random_character" Any spaces will need to be represented by an underscore "_" to create your superadmin account. I typed in: /user add random_character securepass superadmin to make my character a superadmin account.

After you create your superadmin account under your name, type /login <username> <password> and then type /auth <authcode> again. For my example, I typed /login random_character securepass. Then, after I was logged in I typed /auth 72794101. The console then prompted me with this message.
Now that my superadmin account is set up and complete, I'm ready to mod! Follow our guide located here to learn how to install mods and plugins: How to install TShock Plugins.